I met Wayne Jacobsen from The God Journey about 5 years ago after having read a book he co-authored and edited; you may have heard of it: The Shack. Some guys I met on a backpacking trip had all been talking about this book as if it were some life-altering experience to have read it. I'd never heard of it. Of course I went home and read it that week. Wow. It ruined my religion. In a good way. I moved from that to Wayne's other popular book at the time called So You Don't Want to Go to Church Anymore? Haha, yeah, way to pull someone in with a title there Wayne.
Shortly after reading So You Don't Want to Go to Church Anymore (which you can find for free online) I found myself meeting Wayne in person in Southern California where he lives. He's a genuinely nice guy that cares about helping others find their way to Jesus–the real Jesus. Not the plastic Jesus that can only be found after jumping through church leadership hoops, paying tithes, and becoming a "member" of some brick and mortar boys club many people call a "church".  No. The real Jesus. The living Jesus. That's the Jesus we all long for and the Jesus our spirits are all mysteriously drawn to. Thankfully that Jesus is readily available to us all without the church walls and programs.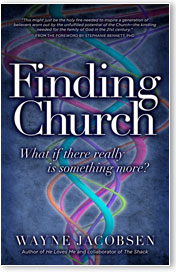 Wayne does a great job of helping us find the real living Jesus and the real living church in his latest book Finding Church. It's a great guide for those of us that are on a different kind of Christian journey. It's for those of us that want authentic community (that's most of us really) but do not know how to find nor create that outside of the traditional congregational buildings. If you find yourself going to church because you know there is an authentic community to be found in the story and life of Jesus but are not quote finding that community in the traditional church then this book is for you. It is filled with hope and a better idea of what His church is intended to look like.